I was approached by Paul of Crosbie's Direct Cleaning Company to design and build his new website. Paul and I had worked together on previous projects in the past and it was great to be working on his new venture.
Paul offered three very clear cleaning services to his customers and it was really important to demonstrate the impact of his work by showing some 'before' and 'after' photography which highlights the results. So we ensured that these were on a slider on the Homepage for visual impact as well as on individual pages and in a gallery as well.
Paul had already had a logo designed so we had a colourscheme to follow and it was important to ensure that the information is easy for customers to find.
Paul was also working on spreading the word via social media and so we ensured links to this accounts were clear and accessible too.
The website is of course mobile-friendly and adapts well to all screen sizes.
Paul also opted for some search engine optimisation so that he increased his chances of being located via Google which is always a challenge with a brand new website. You need to maximise your visibility for a variety of search terms which we researched and then applied to the website.
You can view the website here: Crosbie's Direct Cleaning website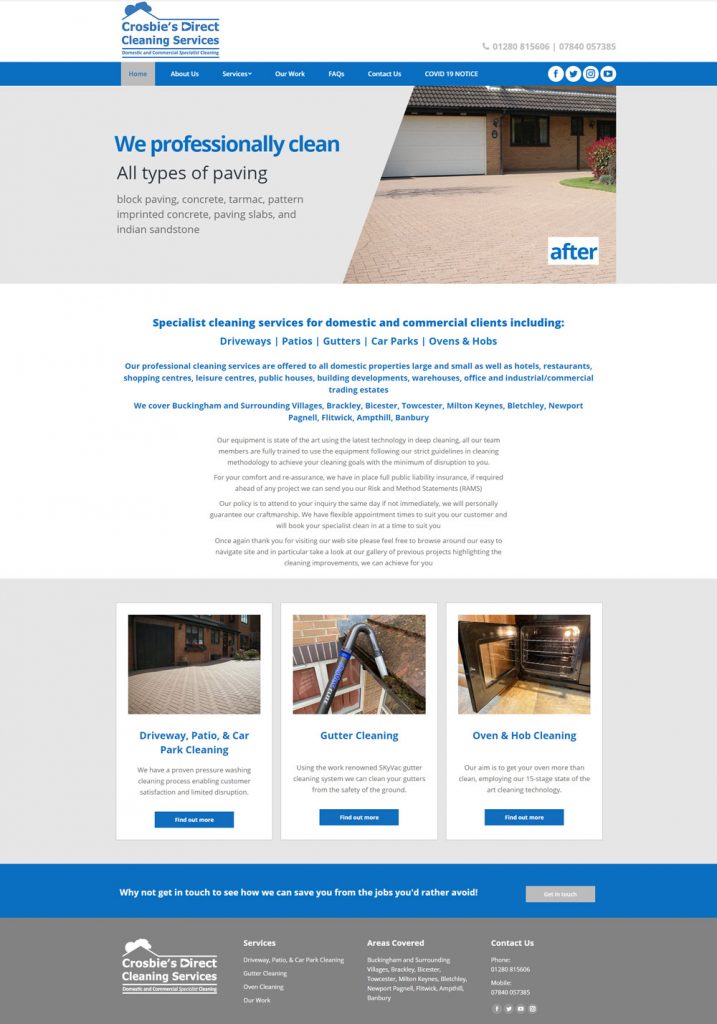 Paul says:
Joanna has built plenty of web sites for me over the years and has just built another two for me. She always understands what you want and how you want it doing and gets it done first time spot on. Along the way she will offer you her expert professional advise to ensure the very best results for your web site. In addition to this she is always on the end of an email or a phone to answer your queries instantly.

HIGHLY RECOMMENDED